Product description
Dog mask ideal for humiliation and especially for hard training.
The mask also has a built-in collar, distinctive ears and eye openings. Holes for the supply of fresh air to the mask are located in the classic place of the dog's nose. The back part includes lacing. A metal zipper is guided over the mouth, so the dog can be silenced at any time or vice versa, it is necessary to feed him or let him serve orally with a mask.
Review
There are currently no product reviews. Be the first.
Related products
LateX latex mask
Black latex mask, with holes for eyes and mouth for easy breathing.

skladem
21.35 €
Leather slapper
Leather slapper - 33x10 cm, handle decorated with chains.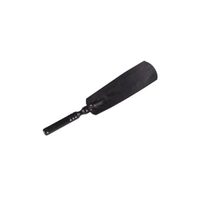 skladem
17.27 €
Satin handcuffs
Fine and amazingly strong satin, silk handcuffs from the Fifty Shades of Gray collection will…