Product description
Bad Kitty brand nipple clamps. Their four-stage vibration brings the best enjoyment. The clamps simply attach to the nipples, the attachment pressure can also be adjusted. A controller is attached to the terminals. The terminals can also be used separately by separating them from the control device. Nipple clamps are made of quality metal, control devices of plastic.
Independent vibration control - 4 levels of vibration
Color: pink
Cable length: approx. 80 cm, control device length 8.5 cm.
Power supply: 2 AAA batteries (not included).
Review
There are currently no product reviews. Be the first.
Related products
4 AAA Baterie
Dlouho trvající 4 micro baterie (1,5 AAA). Lze použít do vibrátoru i ostatních vibračních hraček. 4…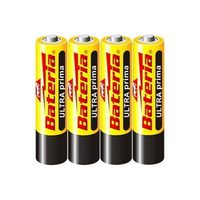 In stock
3.65 €