Product description
Whip with black leather fringe. Whip length: 50 cm
| | |
| --- | --- |
| Barva: | Černá |
| Délka: | 50 cm |
Review
There are currently no product reviews. Be the first.
Related products
Bad Kitty Nipple Chain
Bad Kitty nipple clamps with screws interconnected by an aluminum chain. Adjustable nipple…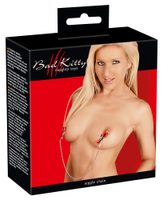 Mask painted CAT
Black latex mask with small ears, large eye openings in the shape of a cat's eyes.

Na skladě
34.58 €
LateX latex mask
Black latex mask, with holes for eyes and mouth for easy breathing.

skladem
21.35 €