Product description
In this book, Veronica Monet will share with you the skills and knowledge that have enabled her to charge the highest fees for her time. You will learn the sexual techniques that form the core of paid sexual services, as well as procedures and information to increase women's self-confidence, which is so sexually attractive to men. All this while deepening the contact with your intuition and the deepest feelings that will help you find your own path to sex.
If you want to be sexually arousing, you will probably have to abandon the idea of ​​innocence and feigned disinterest in sexual matters. For some men, women who appear innocent and inexperienced are exciting, but most men are attracted to wild women. This attraction is confirmed again and again throughout the ages by the existence of professional companions and courtesans. If you allow yourself freedom of sexual consciousness and arousal, the best thing about it all will be the greater joy of sex itself.
Author: Veronica Monet
Book: 256 pages, fiction
Year of publication: 2015
Review
There are currently no product reviews. Be the first.
Related products
Luděk Dufek - Naivní román aneb není škaredých bab jen jsme málo pili
A captivating, naturalistically and erotically tuned novel from a bartender's environment with a…

skladem
11.50 €
Grey (1) - E L James
Fifty shades of gray as seen by Chtistian Gray. Through his own words, thoughts, reflections and…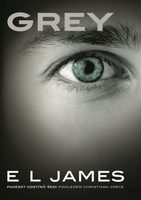 skladem
12.69 €
Fifty Shades Freed
The third, final part of an erotic novel about dark desires in each of us… Ana knew from the…

skladem
17.27 €