Product description
Americký tvůrce Frank Frazetta, "Master of Fantasy Art,"  je považován za nejvlivnějšího a nejvíce napodobovaného fantasy umělce 20. století. Jeho tvorba inspirovala a ovlivnila celé generace umělců, patří k nim např. Jeff Jones, Berni Wrightson, Michael Whelan, Don Maitz, Boris Vallejo, Arthur Suydam, Simon Bisley a mnoho dalších. Obrázky v tomto kalendáři jsou vybrány z jeho nejlepších prací.

Nástěnný kalendář na rok 2021 je rozměru 25,4x35,6 cm (letošní vydání je opět obdélníkového formátu, výsledný rozměr po otevření je 25,45x71,2 cm) text (názvy měsíců a dnů, svátky) je v angličtině a obsahuje 13 listů s ilustracemi a měsíčními kalendáři (na každý měsíc roku 2021 jeden + úvodní bonusový list se zmenšenými kalendáři na září - prosinec 2020) plus přebal, lze jej zavěsit na háček.
Review
There are currently no product reviews. Be the first.
Related products
FANTASY ART OF FRANK FRAZETTA - 2017 CALENDAR ***sleva 50%!***
American creator Frank Frazetta, "Master of Fantasy Art," is considered the most influential and…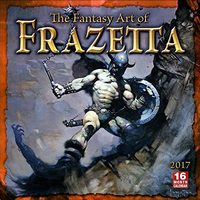 Discount -50%

In stock
7.65 €
FANTASY ART OF FRANK FRAZETTA - 2016 CALENDAR ***sleva 50%!***
American creator Frank Frazetta, "Master of Fantasy Art," is considered the most influential and…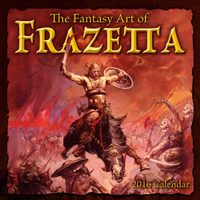 Discount -50%

In stock
7.65 €