Product description
Španělský umělec Luis Royo je jedním z nejpopulárnějších a nejplodnějších ilustrátorů současnosti. Jeho smyslné obrazy žen v apokalyptických kulisách a fantasy světech zaujaly fanoušky sci-fi a erotiky po celém světě. Obrázky v tomto kalendáři jsou z jeho série alb MALEFIC TIME.

Nástěnný kalendář na rok 2020 je rozměru 30,5x30,5 cm (výsledný rozměr po otevření je 30,5x61 cm), text (názvy měsíců a dnů, svátky) je v angličtině a obsahuje 13 listů s ilustracemi a měsíčními kalendáři (na každý měsíc roku 2021 jeden + úvodní bonusový list se zmenšenými kalendáři na září - prosinec 2020) plus přebal, lze jej zavěsit na háček.
Review
There are currently no product reviews. Be the first.
Related products
FANTASY ART OF LUIS ROYO - Official 2015 Calendar
Spanish artist Luis Royo is one of the most popular and prolific illustrators of today. His sensual…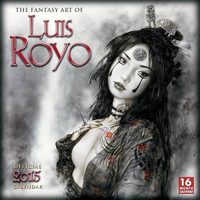 In stock
15.35 €
FANTASY ART OF ROYO - Official 2014 Calendar ***SLEVA 50%!***
Spanish artist Luis Royo is one of the most popular and prolific illustrators of today. His sensual…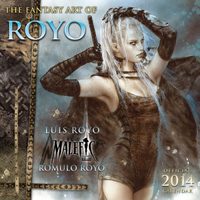 Discount -50%

In stock
7.65 €