Product description
Eros Explorer anal spray is an ideal complement to anal games. If you suffer from burning, pain or a slight injury during anal intercourse, we recommend Eros Explorer, which reduces sensitivity, has a cooling effect and treats the anus. Eros explorer anal spray is based on a water base and is very easy to apply thanks to the pump located directly on the bottle. Eros brand products are dermocologically tested.
Package contains: 30ml
Review
There are currently no product reviews. Be the first.
Related products
EROS Fisting UltraX 100 ml
Anesthetic lubricating gel Eros suitable for fisting. The gel is a combination of silicone and…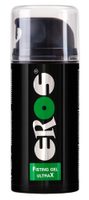 Fisting-Lubri 200ml
The popular high-quality lubricating gel Fisting-Lubri is slippery and ideal for perfect…

In stock
23.04 €