Product description
All ingredients are made of natural substances that are dermacologically and allergically tested. Bio glide is the world leader in lubricating gels. BioGlide brand lubricating gels are based on water and are especially suitable for erotic aids made of silicone. It does not contain preservatives and lasts even for long sexual intercourse.
Package 40 ml.
Review
Průměrné hodnocení 100%. Hodnotilo zákazníků: 1. Zobrazujeme pouze hodnocení s vyplněným komentářem.

doporučuji

Author: Ověřený zákazník, 16.01.
Related products
DurexPlay massage & lubricant s Aloe Vera
The most popular massage gel and lubricant, perfect for partner foreplay and use in intimate places…

In stock
9.58 €
BIOglide 150 ml
All ingredients are made of natural substances that are dermacologically and allergically tested.…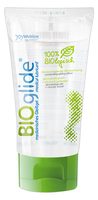 In stock
15.35 €
Pepino personal strawberry lubricating gel
Pepino lubricating gel is suitable for all types of erotic aids. The gel is colorless and does not…

In stock
7.65 €