Product description
Bathmate Hydromax X 30 is a water vacuum pump that uses water pressure and allows each man to enlarge the penis. The Hydromax pump is very similar to the Bathmate Hercules pump, compared to its predecessor it has 35% more suction power, a new rubber cuff which is soft and very comfortable, a new scale and upper and lower texture improves the grip of the pump and its use. The pump is made of high-quality and strong material, which must pass strict safety inspections.
 
The vacuum pump is used in the bath or shower for 15 - 20 minutes. It is recommended to use it at least 3 times a week, but daily use is best. With Bathmate, you don't have to worry about the yo-yo effect, as the results are lasting thanks to long-term use.
 
Hydromax X 30 also helps with premature ejaculation and to increase erections.
Maintenance is very simple, disassemble the pump, rinse with soapy water and let it dry.
Overall length: 29 cm, functional length: 22 cm, diameter: 5 cm, weight: 297 g.
We have this product in other colors.
| | |
| --- | --- |
| Typ dráždění: | Zdravotní pomůcka |
| Vibrace: | no |
| Materiál: | Plast |
| Barva: | Červená |
| Délka: | 29 cm |
| Váha: | 297 g |
| Průměr: | 5 cm |
| Voděodolnost: | yes |
Review
There are currently no product reviews. Be the first.
Related products
Vakuová pumpa Deluxe
The Deluxe vacuum pump is a powerful pump that creates a vacuum. The pump has a pressure indicator…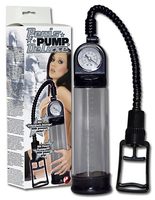 skladem
46.12 €
BATHMATE HYDRO7 (PŮVODNÍ BATHMATE HERCULES)
Bathmate brings unique technology to the world of vacuum pumps. The Bathmate vacuum pump uses water…
You2Toys Air Control
Vacuum pump for men with a very strong vacuum. The Air Kontrol vacuum pump will help you get a…

skladem
26.88 €