Product description
Nový rotační kolík od značky Bvibe jako první na světě přichází s unikátní funkcí lizání zadečku. Vibrační špička análního kolíku dráždí mužskou prostatu, ale i G bod žey a pět řad rotujících kovových kuliček masírují vstup. Rotační kuličky jsou umístěny mezi základnou a samotným kolíkem, přesně tam kde se nachází nejcitlivější místo nervových zakončení. Anání kolík lze jednoduše ovládat na spodní straně kolíku, nebo dálkovým ovladačem , který umožňuje dosah až 9 metrů. Anální kolík nabízí 9 vibračních programů a 5 stupňů rotace od nejpomalejší až po nejrychlejší. Ovládání tlačítek na spodní straně kolíku si přepínáte vibrace a rotace zároveň. Ovládáním pomocí dálkového ovladače si můžete ovládat vibrace i rotace odděleně, případně jednu z nich i vypnout. Anální kolík Bvibe Rimming je celý vyroben z lékařského silikonu, na dotek je sametově hebký a příjemný, snadno se udržuje a nevyvolává alergické reakce.
Bvibe Rimming se nabíjí pomocí magnetické nabíječky, která je součástí balení!
Anální kolík je odolný pouze proti střikající vodě, nikdy jej celý nepokládejte do vody!
Doba nabíjení: 1,5 hodiny doba vibrací: 1,5 hodiny
Rozměry:
Délka celková: 14,9 cm.
Délka funkční části: cca 12,1 cm.
Průměr: 2,5 - 3,8 cm.
Velikost ovladače: cca 8,5 x 4,4 cm.
Obsah balení:
Vibrační anální kolík, magnetická nabíječka, dálkové ovládání, plastová krabička na zip,návod..
| | |
| --- | --- |
| Typ dráždění: | Anální, Vaginální |
| Vibrace: | yes |
| Materiál: | Lékařský silikon |
| Barva: | Černá |
| Délka: | 14.9 cm |
| Průměr min.: | 2.5 cm |
| Průměr max.: | 3.8 cm |
| Voděodolnost: | yes |
| Vlastnost materiálu: | Měkký na dotek |
| Napájení: | Nabíječka |
| Typ baterie: | Nabíjecí akumulátor |
Review
There are currently no product reviews. Be the first.
Related products
Anal Drops small vibrating Plug
Vibrating anal plug with very quiet vibration. Vibration can be regulated at the bottom of the…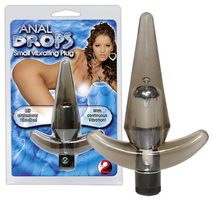 In stock
15.35 €
ZEPPLIN - inflatable anal plug
Vibrating Zepplin is a unique inflatable anal plug. It is an ideal companion for intense…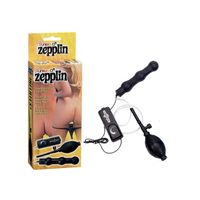 In stock
30.73 €
Smile Silicone Butt Plug
Vibrating anal plug made of fine silicone material. It includes a small vibrating cartridge that…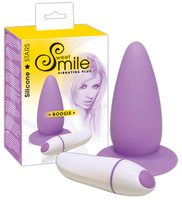 Sale

In stock
26.88 €