Product description
The Hopper anal plug is a popular erotic device for middle-aged people. The anal plug is made of hypoallergenic medical silicone, which is smooth to the touch. This material is very gentle on the skin and does not cause health complications. Smile Hopper is ergonomically shaped by a ripple, which increases the enjoyment of the introduction.
This unique anal plug can also be used vaginally, mainly thanks to the tapered curved tip, which allows you to stimulate the G-Spot. The pin is suitable for use before anal intercourse, as it dilates the rectum and massages the prostate. There is a suction cup at the bottom of the pin, so you can attach the anal plug to the wall, for example in the shower.
| | |
| --- | --- |
| Typ dráždění: | Anální |
| Vibrace: | no |
| Materiál: | Lékařský silikon |
| Barva: | Růžová |
| Délka: | 10 cm |
| Průměr min.: | 1.7 cm |
| Průměr max.: | 3 cm |
| Voděodolnost: | yes |
| Vlastnost materiálu: | Měkký na dotek |
Review
There are currently no product reviews. Be the first.
Related products
Anal Blue
The transparent anal plug is especially suitable for those who start with anal pleasure. The Anal…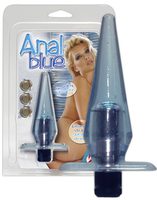 skladem
19.19 €
Angler anal chain
Angler's popular, transparent anal chain is composed of six balls. The beads vary in size and are…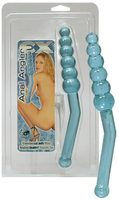 skladem
15.35 €
Special cleaner 200ml
The special cleaner spray contains a cleaning solution with antibacterial effects (one use will…