Product description
The Colorful Joystick is a glass pin with a variable diameter for both vaginal and anal irritation. The surface of the pin is smooth. The dildo is handmade from medically pure quality glass. The glass is maximally smooth, slippery and the hygiene of these products is very well maintained, it is hypoallergenic, it does not cause any complications even for the most sensitive mucous membranes. Easy to clean, the glass can be heated well in warm water or on the heating element, it can be cooled with cold water, for example, so you can diversify your excitement with strongly irritating feelings. The delivery includes a velvet bag for better storage of the product and its hygiene. The Dishwasher-proof feature means that you can also wash it in the dishwasher. Pink color. Size: length 22 cm, diameter 3.5-4 cm. Material medical glass (crystal).
Product parameters
Color: transparent
Length (cm): 14
Material: glass
Power supply: no
Maximum diameter (cm): 5
Minimum diameter (cm): 1.5
Vibration: no
This product is no longer in stock.
Review
There are currently no product reviews. Be the first.
Related products
BIOglide 150 ml
All ingredients are made of natural substances that are dermacologically and allergically tested.…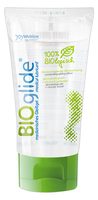 In stock
15.35 €
Fisting-Lubri 200ml
The popular high-quality lubricating gel Fisting-Lubri is slippery and ideal for perfect…

In stock
23.04 €