Product description
An exceptional Sex machine, which can boast a number of advantages. The powerful 16V / 4A power supply, which is installed in a comfortable, anatomically shaped seat, guarantees an unlimited supply of energy. You will also find two different dildos in the package. One dildo is in a realistic design with a longer length, the other dildo with protrusions around its circumference for perfect stimulation. You can use the dildo anal or vaginal. The red button on the side of the fucking machine stops the dildo and starts spraying intensely (you can easily refill the container with the syringe). The effect of ejaculation is then perfect.
fucking machine: length: 37.5 cm long, width: 22 cm, high: 17 cm
basic dildo: length 19 cm, diameter: 3.5 cm
dildo: length: 13.5 cm, diameter: 4cm
| | |
| --- | --- |
| Typ dráždění: | Anální, Vaginální |
| Vibrace: | yes |
| Voděodolnost: | no |
| Napájení: | Ze sítě |
Review
There are currently no product reviews. Be the first.
Related products
Love Machine
Love Machine - a fucking machine, the combination of many functions and features makes together…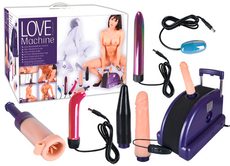 In stock
384.58 €