Product description
Venus balls Close2you are an ideal tool for women's excitement. They are encapsulated in medical silicone and finished with a practical handle for easy handling, insertion and removal are very pleasant.
Each ball has a small steel weight that vibrates the package with each movement of the body. The shape and size are usable both vaginally and anally, with graded arousal during gradual insertion.
The delivery includes:
velvet bag for storing balls,
disposable lubricating gel (7.5 ml),
sanitary napkin.
Material: Medical silicone TPR for the entire functional part, 100% hypoallergenic, in combination with ABS plastic.
Color: blue.
Total length 17 cm,
diameter 3.5 cm.
This product is out of stock.
Review
There are currently no product reviews. Be the first.
Related products
Feelz Toys Love Balls
Branded Venus balls with a heart motif are a beautiful and practical companion for the whole day.…
Discount -36%
Sale

In stock
17.27 €
You2Toys Love Balls Nature skin
Nature skin are Venus balls made of the Nature Skin material of the same name, which is similar to…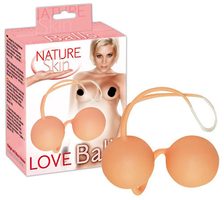 In stock
15.35 €
Velvet red balls
Red Venus balls made of ABS plastic coated with a velvety surface pleasant to the touch. The balls…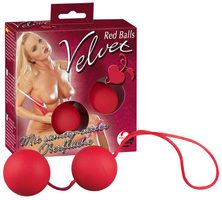 In stock
19.19 €