Product description
Luxury branded Venus balls Vibe therapy Terah are made of medical silicone. The surface is partly made of fine silicone, but they are reinforced with ABS plastic on each ball. The connection of the balls is very soft and pliable. The pull cord fits well in the panties and holds well. The package also includes a breathable hygienic bag for safe storage.
Internal weights are large and heavy, cavities spacious. This creates the conditions for their higher efficiency.
The elegance of the packaging, the shape of the balls and their effectiveness make this product one of the nice erotic gifts.
Weight: 85g.
This product is no longer available.
| | |
| --- | --- |
| Typ dráždění: | Zdravotní pomůcka |
| Vibrace: | no |
| Materiál: | Silikon |
| Barva: | Růžová |
| Délka: | 8.5 cm |
| Průměr: | 3.6 cm |
| Voděodolnost: | yes |
| Vlastnost materiálu: | Měkký na dotek |
Review
There are currently no product reviews. Be the first.
Related products
Feelz Toys Love Balls
Branded Venus balls with a heart motif are a beautiful and practical companion for the whole day.…
Discount -36%
Sale

In stock
17.27 €
AMI Venus Balls - red
Elegant Ami set designed not only for your personal pleasure, thanks to the hidden weight that…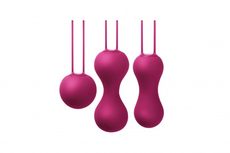 Discount -33%
Best seller

In stock
76.88 €
Vibe Therapy Fascinate - purple
The well-known company Vibe Therapy brings to the market a new modern on the surface of a smooth…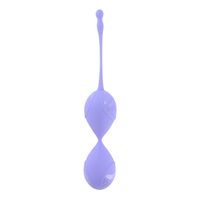 Discount -69%

In stock
15.35 €