Product description
Comfortable for menstrual tampons and pads. By using a cup, you will save money and your nerves.
LARGE size suitable for women who have already given birth or women older than 30 years. Ideal for heavier bleeding.
Length: 7cm
Diameter: 4.5 cm
Volume: 22ml
Review
There are currently no product reviews. Be the first.
Related products
Fun Factory Fun Cup size B
FUN CUP menstrual cups - size BForget buying tampons. Try the FUN CUP menstrual cup, which will…

skladem
57.65 €
Fun Cup Menstruační kalíšek A + B Explore Kit
Fun Cup Menstrual Cup A + B Explore Kit Forget buying tampons. Try the FUN CUP menstrual cup, which…

skladem
57.65 €
Menstrual Cup small
Comfortable for menstrual tampons and pads. By using a cup, you will save money and your nerves.…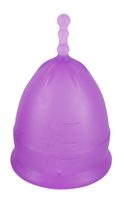 skladem
23.04 €