Product description
Midnight Blue Set is a popular dark blue erotic set designed for men and women.
The set contains:
Smooth plastic vibrator (17.5 cm, diameter is 2.5 cm, 2 x AA)
Silicone sleeve fine veining and acorn (length 17cm; diameter 3.5cm)
Anal corkscrew with eyelet for attachment (length 23cm; diameter 1.5cm)
Anal plug with eyelet for threading on the finger (length 7cm; diameter 1-1.7cm)
Penis sleeve open at both ends (length 5.5 cm; diameter: 3 cm)
Artificial vagina, with shaped lips and nose (length 10.5 cm; diameter 3.5-5 cm)
Double-sided gel dildo (length 18cm; diameter 1.5-2.5cm)
Venus balls (diameter 3.3 cm)
Vibrating egg, with remote control (length 6cm; diameter 2.5cm)
Batteries not included.
| | |
| --- | --- |
| Typ dráždění: | Pro páry |
| Materiál: | Plast |
| Barva: | Modrá |
| Vlastnost materiálu: | Tvrdý na dotek |
| Napájení: | Baterie |
Review
Průměrné hodnocení 100%. Hodnotilo zákazníků: 1. Zobrazujeme pouze hodnocení s vyplněným komentářem.

fajn cena/kvalita/sranda ♡

Author: Ověřený zákazník, 29.11.
Pro:
sranda prenu aj preneho (pre zaciatocnikov urcite)
Proti:
masturbator pre muzov sme nezistili vyhody /zatial/
Related products
Gift set "Dare me"
The luxury Dare Me set is an ideal gift for loving couples who are not afraid to spice up their sex…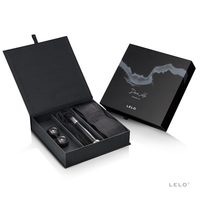 Dárková sada "indulge me"
The Indulge me "Oddej se mi" gift set is an ideal gift for couples from Milk who are not afraid to…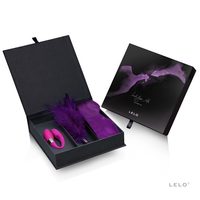 Bedroom Party
A complete erotic set for a party in your bedroom. Package contains: penis-shaped vibrator ((14 cm,…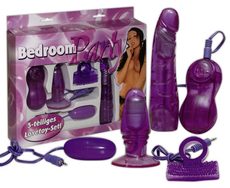 Discount -20%