Product description
Bad Kitty suction cups will ensure you perfectly sexy nipples. Each of the suction cups with a red balloon pump has a different inner diameter, which has four rings of different sizes.
All you have to do is choose a smaller or larger suction cup, put on a black silicone ring, place it on your chest and press the red pump. Your nipples will sink and then all you have to do is let the ring slide around your nipple for a lasting effect.
Dimensions:
The inner diameter of the smaller suction cup is 0.7 cm, the larger suction cup is 1.1 cm.
The two four elastic silicone rings have a diameter of 0.5 to 1.2 cm
| | |
| --- | --- |
| Typ dráždění: | Bradavky |
| Vibrace: | no |
| Materiál: | Plast / Guma |
| Barva: | Červená |
| Vlastnost materiálu: | Měkký na dotek |
Review
There are currently no product reviews. Be the first.
Related products
Fifty Shades of Grey - Nothing but Sensation
Nipple suckers from the Fifty Shades of Gray collection. The use of suction cups is very easy. You…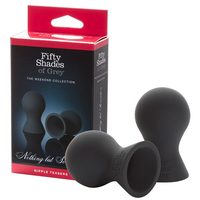 Na skladě
26.88 €
You2Toys Ultraviolet Nipple Sucker
Nipples are among the most sensitive places on a woman's body. Ultraviolett vibrating suction cups…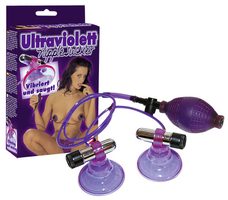 skladem
34.58 €
Brustnippel Sauger
The Sauger nipple suction cup works to create a vacuum, which stimulates the nipples very…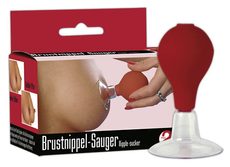 skladem
19.19 €