Product description
Romantic set, which consists of a short top, strapless and comfortable panties. The top and panties are made of small lace ruffles, which looks very unconventional, but also luxurious at the same time. The set is also decorated with small bows on the top and panties.
Material: 92% Nylon, 8% Elastane
Size: universal.
Review
There are currently no product reviews. Be the first.
Related products
Set Anais Splash
Two-piece erotic set - shirt and thong. The shirt is made of transparent elastic tulle and shiny…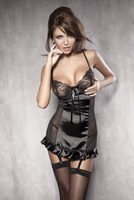 In stock
38.42 €
Anais Gina set
Provokativní černo-bílý set Gina se skládá z erotické podprsenky a tang. Podprsenka má vykrojené…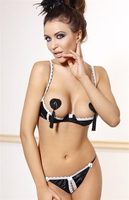 In stock
23.04 €
Anais Magnolia set
Okouzlující  set Magnolia se skládá z pásky na oči, tang a podvazku. Okouzlující černo-růžová…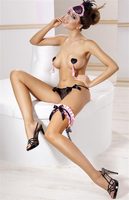 In stock
15.35 €