Product description
Romanticky laděná souprava, která se skládá z krátkého topu, bez ramínek a pohodlných kalhotek. Top i kalhotky jsou vytvořeny z drobných krajkových volánků, což působí velice netradičně, ale i luxusně zároveň. Set je zdoben také drobnými mašličkami na topu a kalhotkách.
Materiál: 92% Nylon, 8% Elastan
Velikost: univerzální.
Review
There are currently no product reviews. Be the first.
Related products
Set Anais Isida
Nádherný sexy komplet Anais Isida. Krátká košilka z jemné síťoviny,. Košíčky jsou zdobené…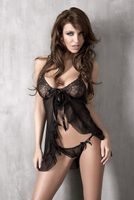 Komplet Kasandra-LivCo Corsetti
 Elegantní komplet KASANDRA od LIVIA CORSETTI se skládá z delší košilky a krásných šortek. Komplet…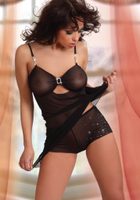 Souprava Obsessive Zebra top + pants
Absolutně fantastický dvoudílný luxusní set skládající se z topu a kalhot. Elastická a jemná…