Product description
Elegantní košilka Anais Estee, která krásně podtrhne ženské tvary. Je velmi smyslná, lehká, na regulovatelných ramínkách. Na pozadí je krásný rozparek. Podprsenka je vystužena kosticemi. Ozdobným prvkem jsou spojovací kroužky. V kompletu jsou tanga. 80% polyamid, 20% elastan.
Review
There are currently no product reviews. Be the first.
Related products
Košilka Seven´til Midnight 2709392
Popisek připravujeme.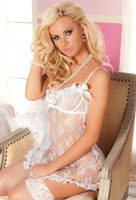 Košilka Anais Seduce me
Sexy košilka Seduce me značky ANAIS může posloužit i jako erotické šaty pro vaše hrátky s partnerem…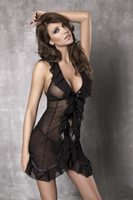 Košilka Anais Amber
Krátká  neodolatelná košilka Amber z dílny ANAIS. Košilka je vyrobena v kombinaci černé a červené…