Product description
Andělsky bílý  set Naomi je složen z krátké košilky a tang. Set je vyroben z lesklého materiálu, košilka v zadní části přechází v lehce průsvitný, poddajný materiál. Košilka je na tenkých ramínkách, ve spodní části je lehce nařasena a je opatřena popruhy k lepšímu přichytnutí k punčochám. Zadeček zdůrazňuje výkroj a celkově zadní část košilky má sexy šněrování. Košíčky košilky jsou vyrobeny z jemné krajky a mezi košíčky je ozdoba v podobě stuhové mašle. Materiál: 80% Nylon, 20% elastan. 
Review
There are currently no product reviews. Be the first.
Related products
Košilka Obsessive Wifie
Okouzlující košilka s růžovými doplňky pochází z Pin-up kolekce. Je vyrobena z elastického…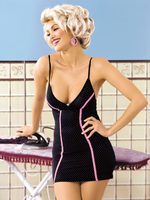 Košilka Obsessive Showgirl chemise
 Okouzlující průsvitná košilka zdobená bílou, třpytivou výšivkou. Košilka krásně přilne k tělu.…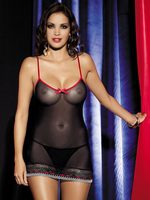 skladem
34.58 €
Košilka Seven´til Midnight 2709184
Popisek připravujeme.