Product description
Sexy košilka Seduce me značky ANAIS může posloužit i jako erotické šaty pro vaše hrátky s partnerem. Košilka je kratší délky, ramínka se zužují a spojují za krkem, čímž zůstávají odhalená ženská záda. V přední části je košilka lemována nařaseným průsvitným materiálem, ze kterého je vyrobena celá košilka. Po celé délce je pak uprostřed košilka spojena pomocí černých mašliček. Součástí košilky jsou sexy tanga, která krásně ladí s celým modelem. 
Review
There are currently no product reviews. Be the first.
Related products
Košilka Obsessive Casablanca chemise
Okouzlující košilka je ideální pro všechny milovníky klasiky a romantiky. Elastický materiál…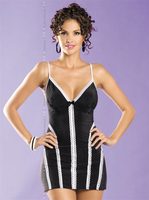 Košilka Seven´til Midnight 2709485
Popisek připravujeme.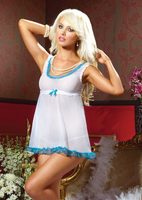 Set Gorgeous+ Anais Fendia
 Jednoduchý a elegantní návrh značky Anais Apparel, to je volba pro milovnice výjimečného pohodlí a…