Product description
Koketně provokující košilka v pastelově růžovém barevném provedení je vyrobena z elastického a lesklého materiálu. Její speciální střih nádherně zdůrazňuje a podtrhuje krásu ženského těla.  Navíc, originální lemování v podobě drobných volánků zdobí košilku po celém obvodu vrchní části, kde je košilka po prsy vykrojena do tvaru slzy a lemování je zde spojeno pomocí vkusné krajkové mašle. Volánky pak také přechází nejen na ramínka, ale dokonale vyšperkovávají také spodní část košilky. Komplet doplňují vkusně ladící tanga. Zboží je ve velikosti XXL.Materiál:90% polyamid, 10% spandex.
Review
There are currently no product reviews. Be the first.
Related products
Košilka Obsessive Amoresa chemise
Romantická přiléhavá košilka. Elastická košilka z jemné a průhledné látky v kombinaci s krásnou…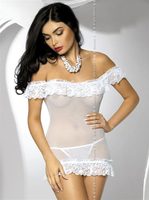 Košilka Gorgeous+ Anais Acre
 Gorgeous - Výjimečně půvabný a zároveň svůdný návrh značky Anais Apparel, to je projekt určený…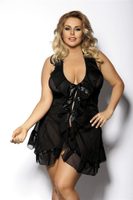 Košilka Seven´til Midnight 2709392
Popisek připravujeme.