Product description
Exkluzivní košilka vyrobená z elastického materiálu v černém odstínu. Horní část košilky je zdobená subtilním volánkem. Zajímavé košíčky na míru jsou doplněny o dekorativní vložku pod prsy zdobenou květinovým vzorem.Velikost: S/M, L/XL.
Review
There are currently no product reviews. Be the first.
Related products
Košilka Seven´til Midnight 2709392
Popisek připravujeme.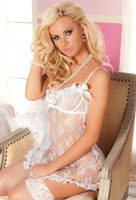 Košilka Anais Amber
Krátká  neodolatelná košilka Amber z dílny ANAIS. Košilka je vyrobena v kombinaci černé a červené…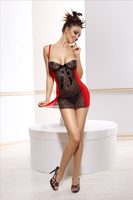 Košilka Obsessive Cobra chemise
Zajímavá košilka z jemné elastické krajky s květinovým vzorem. Košilka s hlubokým dekoltem a…