Product description
Okouzlující, lehce průhledná košilka s neobvyklým křížením na zádech a krásnou mašličkou posázenou třpytivými kamínky. Součástí košilky jsou také doplňky v podobě tang a límečku, které jsou zdobeny malou lesknoucí se mašličkou.Materiál:90% polyamide, 10% spandex.
Review
There are currently no product reviews. Be the first.
Related products
Košilka Seven´til Midnight 2709482P
Popisek připravujeme.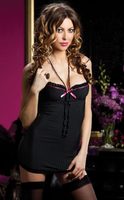 Košilka Obsessive Choco chemise
Unikátní košilka je vyrobena z elastického materiálu v odstínu smetanové čokolády. Svislé pásy…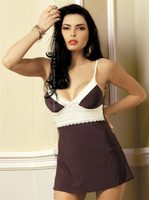 Košilka Obsessive Joanna
Rozkošná košilka "babydoll". Košilka se zajímavým řešením košíčků, které lze rozevřít zatáhnutím za…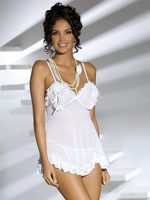 skladem
30.73 €