Product description
Sweet camisole decorated with stripes. The material is made of a finely translucent fabric in the colors of pink and sky white. In front of the shirt is a wide belt made of elastic mesh decorated with a floral pattern and white lace. Sweet bows between cupcakes. Adjustable straps. Matching thong included. Size: S / M, L / XL. Material composition: 90% polyamide, 10% elastane.
Review
There are currently no product reviews. Be the first.
Related products
Seven´til Midnight 2709485
Popisek připravujeme.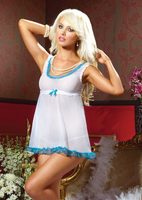 Obsessive Dottie babydoll
Extremely charming babydoll shirt in mint green, decorated with white polka dots. The intermediate…
Obsessive Alcove chemise XXL
Flirtatiously provocative shirt in pastel pink color is made of elastic and shiny material. Its…