Product description
Material composition: Fabric: 90% polyamide, 10% elastane. Sexy black shirt that evokes hot Latino rhythms! Transparent, mesh material on the front reveals the secrets of a woman's body. The cupcakes and bottom hem are decorated with fringes. In addition, the cupcakes are made visible by a small ornament in the form of a rose. Matching thongs are included.
Review
There are currently no product reviews. Be the first.
Related products
MIA DOUX White diamond
Short, tomatoy, but also extremely elegant White Diamond shirt by MIA DOUX. The shirt is just below…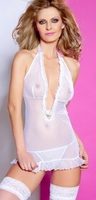 Seven´til Midnight 2709485
Popisek připravujeme.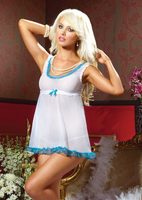 Obsessive Casablanca chemise
The charming camisole is ideal for all lovers of classics and romance. The elastic material fits…