Product description
Charming camisole made of elastic fabric. The shirt beautifully emphasizes your cleavage and looks as feminine as possible. The straps are made of translucent chiffon and are decorated with elegant ribbons. The neckline between the cupcakes is decorated with a black, elegant ribbon. A small slit in one thigh is very catchy. Size: S / M, L / XL. Material: 90% polyamide, 10% spandex.
Review
There are currently no product reviews. Be the first.
Related products
Obsessive Amoresa babydoll
Gentle "babydoll" shirt. Camisole with an interesting solution of cups, which can be opened by…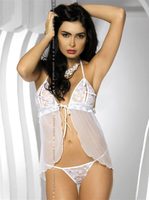 In stock
30.73 €
Obsessive Furriel
A seductive short shirt that reveals the arms, neck and, thanks to the translucent material, makes…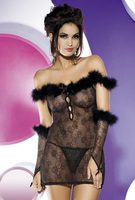 Seven´til Midnight 2709219
Popisek připravujeme.