Product description
Tailor-made camisole made of black material decorated with white and glittering embroidery. The deep neckline beautifully reveals the bust, the cupcakes are decorated with white embroidery and in addition, the chest area is highlighted by a red bow between the cupcakes. The shirt also includes thongs. Material: 90% polyamide, 10% elastane. Size: S / M, L / XL.
Review
There are currently no product reviews. Be the first.
Related products
Obsessive Cobra chemise
Zajímavá košilka z jemné elastické krajky s květinovým vzorem. Košilka s hlubokým dekoltem a…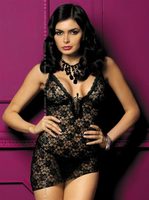 Seven´til Midnight 2709485
Popisek připravujeme.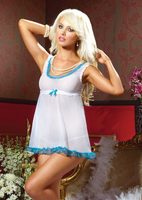 Gorgeous+ Anais Acre
Gorgeous - An exceptionally charming and at the same time seductive design by Anais Apparel, this…