Product description
Let yourself be pampered by the sun shines yellow and cream color combinations. The shirt is made of elastic material, which is extremely pleasant to the touch. There are shiny polka dots on the yellow embroideries. The neckline line is decorated with lace and a teardrop-shaped cut. There is a beautiful bow between the breasts. There is a ruffle at the bottom of the shirt. Available sizes: S / M Material composition: 88% polyamide, 12% elastane.
Review
There are currently no product reviews. Be the first.
Related products
Seven´til Midnight 2709485
Popisek připravujeme.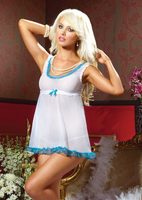 Gorgeous+ Anais Foli
The Gorgeous collection represents a magnificent combination of softness, charm and a pinch of…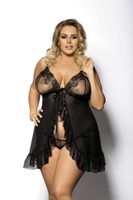 Anais Seduce me
Sexy košilka Seduce me značky ANAIS může posloužit i jako erotické šaty pro vaše hrátky s partnerem…