Product description
The Bad Kitty vacuum pump for women is used to enlarge and improve blood flow to the clitoris and labia. Thanks to better blood circulation, your intimate places will be more sensitive and every touch will be an amazing feeling of pleasure. The vacuum can be very well regulated with the help of a balloon. The vacuum pump is shaped to suck comfortably.
| | |
| --- | --- |
| Typ dráždění: | Klitoriální |
| Vibrace: | no |
| Materiál: | Plast / Guma |
| Barva: | Fialová |
| Délka: | 12.5 cm |
| Voděodolnost: | yes |
| Vlastnost materiálu: | Tvrdý na dotek |
Review
There are currently no product reviews. Be the first.
Related products
You2Toys Vagina Sucker
The vacuum pump for women is suitable for circulating the labia and clitoris for much greater…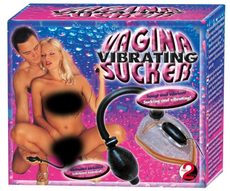 In stock
49.62 €
Bad Kitty Pussy Sucker
The non-vibrating vacuum pump for women Bad Kitty will allow you to bleed your lips and clitoris…

In stock
34.19 €
Womanizer Masážní strojek - Liberty blue
This product is no longer available. We can offer you products from the brand Satisfyer.

In stock
134.58 €