Product description
A vibrator that is designed for lovers of anal sex. This anal vibrator is made of a pleasant, slippery material that allows easy penetration. Thanks to the suction cup at the end, the vibrator can be mounted on a table or very easy to handle. The vibrator has a controller that offers several speeds, thanks to which you can determine for yourself which tempo suits you best. We recommend purchasing batteries (2x AA).
This product is no longer manufactured.
| | |
| --- | --- |
| Barva: | Růžová |
| Délka: | 16 cm |
| Průměr min.: | 1 cm |
| Průměr max.: | 2 cm |
Review
There are currently no product reviews. Be the first.
Related products
Anal vibrator Charmeur
The purple vibrator is designed for anal stimulation. Thanks to the easy-to-grip two-wing handle,…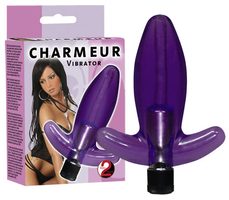 In stock
19.19 €