Product description
Magic Massager 2.0 je nová vylepšená verze ve fialové barvě a delším kabelem pro zdroj nabíjení s možnosti deseti různých vibračních režimů. O proti původní verzi magic massager má přístroj až o 50% silnější vibrace. Vibrátor je napájen přímo ze sítě a proto je jeho výkon extrémní. Díky speciálnímu torgue motoru jsou vibrace jsou tak silné, že je můžete cítit i přes oblečení a masírovat tak unavené svaly, krční páteř apod. Hlavice má dvě pěnové vrstvy a proto je příjemně měkká. Krk pod hlavicí je průžný a ohebný až do 45st, tím je tlak na klitoris stejnoměrný. Extrémní vibrace se rozlevají nejen po celé vagíně, ale až do celé pánve.
Vibrátor je napájen pomocí  kabelu do sítě

Masážní hlavice můžete znát z pornografických filmů, kde získaly na popularitě.
vysoký výkon
jeden z nejlepších a nejvýkonnějších vibrátorů na trhu
příjemná hlavice s dvojitou pěnovou vrstvou
10 úrovně vibrací
ohebný krk pod hlavicí
stimulace celé vagíny
velmi účinný i pro stimulaci penisu s vibracemi až k prostatě
možno používat i přes oblečení
vhodné i pro masáž celého těla
rozměry 31 x 10 x 8 cm , váha: 446 g
OBSAH BALENÍ
vibrátor magic massager
kabel do sítě
návod k použití
Oproti původní verzi (Magic Massager) má až o 50% silnější vibrace.
| | |
| --- | --- |
| Typ dráždění: | Klitoriální |
| Materiál: | Plast |
| Barva: | Fialová |
| Vlastnost materiálu: | Tvrdý na dotek |
| Napájení: | Ze sítě |
Review
There are currently no product reviews. Be the first.
Related products
Magic Massager 2.0 rechargeable black
Magic Massager 2.0 is a new improved version in black with the possibility of ten different…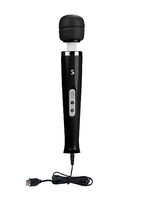 Seven Creations Sparkling Clear Rabbit
Horny Rabbit is a multifunctional vibrator that offers both rotating balls inside the vibrator and…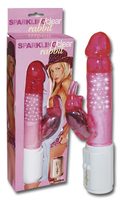 Magic Massager 2.0 černá
Magic Massager 2.0 je nová vylepšená verze v černé barvě a delším kabelem pro zdroj nabíjení s…

In stock
96.12 €