Product description
Vicky is a universal vibrator from the Svakom brand, which will be appreciated by both men and women. It is very versatile, it is used by men to massage the prostate and women can enjoy it at the same time while stimulating the anal and G-spot. The very quiet vibrator is rechargeable using the USB cable included in the package. Vicky is coated with a pleasant silicone, which is soft to the touch, safe for the body and hypoallergenic.
| | |
| --- | --- |
| Vibrace: | yes |
| Materiál: | Lékařský silikon |
| Barva: | Černá |
| Váha: | 82 g |
| Voděodolnost: | yes |
Review
There are currently no product reviews. Be the first.
Related products
Svakom - Lisa Touch Sensor Vibrator Violet
Lisa is a vibrator from the Svakom brand with a touch sensor. You can activate the touch sensor…
Svakom - Amy G-Spot Vibrator Khaki
The medium-sized, elegant and high-quality massage machine from the Svakom brand is made not only…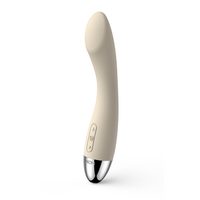 Svakom - Barbara Ultra-Soft Vibrator Plum Red
The medium-sized vibrator Barbara is the latest dual vibrator from the Svakom brand. The vibrator…