Product description
SATISFYER MEN WAND will take care of your penis! This handy Masturbator will relieve your hands.
On the body of the device you will find flexible wings that will hug your penis and after turning on the vibrations. MEN WAND offers a total of 50 vibration and pulsation modes, which are a combination of vibration programs and speeds. The + and - buttons are for speed control. Water games are also possible thanks to waterproofness (IPX7).
simple design
made of comfortable silicone and durable glossy ABS plastic
thanks to the long body, the penis feels vibrations along its entire length
a total of 50 vibration and pulsation programs
waterproof design
easy maintenance
Parameters:
Black colour
Material: silicone, ABS plastic
Dimensions: length 20 cm, diameter 5.3 cm
Vibration: yes
Drive: Li-on battery
Water resistance: yes (IPX7)
Lubrication: water-based lubricants
| | |
| --- | --- |
| Vibrace: | yes |
| Materiál: | ABS/Silikon |
| Barva: | Černá |
| Voděodolnost: | yes |
| Vlastnost materiálu: | Měkký na dotek |
| Napájení: | Nabíječka |
Review
There are currently no product reviews. Be the first.
Related products
Womanizer PRO40 - White
We are launching another new and improved Womanizer PRO40. This model is designed mainly for women.…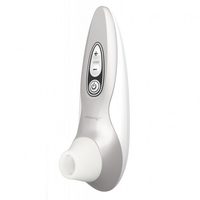 Womanizer Massage machine w500 - Tattoo
More powerful, quieter, lighter, shaped for a more comfortable grip, adjustable intensity with one…
Satisfyer Curvy 2+
News from Satisfyer is here! SATISFYER CURVY 2+ A small top device for irritating the clitoris.…

skladem
57.65 €