Product description
Pevná vazba, 64 barevných stran, formát 21x26,5 cm. Album DOME dokumentuje vznik maleb v kopuli kostela v Moskvě, kde na zakázku ruského milionáře během více než 3 měsíců práce Luise Roya a jeho syna vzniklo 80 m2 maleb renesančním stylem. V kopuli je celkem 8 sekcí reprezentujících různá erotická (vesměs lesbická) témata a soustředěných kolem středového kruhu s hlavní postavou (takto by asi vypadala Sixtinská kaple podle L.Roya) - celkem 45 ženských postav v životní velikosti. Album obsahuje skici, postup prací i finální podobu maleb včetně fotografií. Jako příloha je do alba vložen plakát kopule o rozměru 40x40cm. Doprovodný text je pětijazyčný: španělsky, anglicky, francouzsky, německy a italsky.
Luis Royo je španělský umělec známý nyní po celém světě svými smyslnými a temnými fantasy ilustracemi a apokalyptickými metaforami. Mnoho jeho prací bylo a je určeno pro časopis Heavy Metal, dále je autorem mnoha obálek knih, počítačových her a CD, komiksů, tarotových karet, předloh pro sošky atd.
Review
There are currently no product reviews. Be the first.
Related products
Luis Royo PROHIBITED BOOK NEW REMASTERED EDITION
The album contains selected illustrations by Luis Roy from 1998-2003 from the albums PROHIBITED…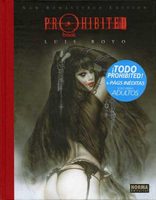 In stock
23.88 €
Luis Royo PROHIBITED BOOK III
The third book in Luis Roy's four-part PROHIBITED BOOK series, this series focuses on the sexually…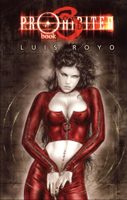 In stock
19.88 €
Luis Royo PROHIBITED BOOK II
Druhá kniha ze čtyřdílného cyklu Luise Roya PROHIBITED BOOK, tento cyklus je zaměřen na sexuálně…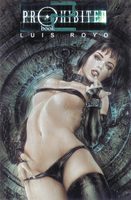 In stock
19.88 €