Product description
Uberlube silicone lubricating gel has a long-lasting effect, increases comfort and performance and is suitable for a wide range of intimate activities. Excitement. Intimacy. Expectation. Satisfaction. Uberlube can feel all the things you want to feel. The lubricating gel is supplied in an elegant tempered glass bottle with a measured dispenser for easy operation.
Package 50ml.
Uberlube is developed and tested in a laboratory in Chicago, it is recommended by leading doctors.
| | |
| --- | --- |
| Typ dráždění: | Zdravotní pomůcka |
Review
There are currently no product reviews. Be the first.
Related products
Pjur Woman lubricating gel 100 ml.
The highly concentrated and silky smooth Pjur Woman gel is designed for the sensitive skin of a…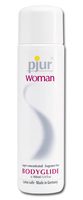 Na skladě
19.19 €
Durex Perfect Glide 50ml
Perfect Glide is a silicone-based lubricating gel from Durex suitable for anal and vaginal use! The…

skladem
15.35 €
Bodyfluid lubricating gel 100 ml
Bodyfluid is one of the highest quality lubricating gels. It is long-lasting and highly…


skladem
23.04 €