Product description
The luxurious Wild Berriers set is intended for both beginners and experienced individuals. Seven different erotic aids allow you to make a sufficient choice depending on what type of stimulation you are not relying on.
The set contains:
Anal (length 26 cm, diameter from 1 to 2.5 cm)
Vibrator with adjustable vibration (length 18 cm, diameter 3 cm)
Gel attachments for a vibrator, one with bumps and the other smooth with a clitoral stimulator
Flexible penis ring with clitoral stimulator
Vibrating Venus Balls (diameter 3 cm)
Gel masturbator (length 16.5 cm, diameter 4 cm)
| | |
| --- | --- |
| Typ dráždění: | Pro páry |
| Materiál: | Gel |
| Barva: | Fialová |
Review
There are currently no product reviews. Be the first.
Related products
Orion Caribbean Dreams Set
Caribic dream is an eight-part erotic set made of high-quality silicone in a light blue design.…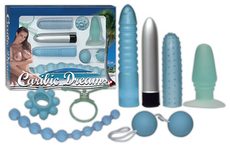 Sada Candy Toy
Pink erotic Candy Toy set designed for men and women. Vibrating egg (6 cm, Ø 2.5 cm, waterproof…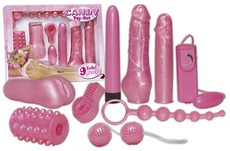 In stock
53.81 €
Orion Crystal Clear gadget set
An advantageous set of erotic aids made of transparent gel material not only for women. smooth…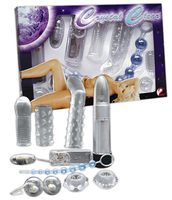 In stock
49.96 €