Product description
Vibrating nipple suction cups with hand pump to create a vacuum. Vibrating bodies with 1 vibration level are removable. Once the vacuum is created and the pumping device is removed, the suction cups remain attached to the chest.
Cup size: inner approx. 5 cm high, diameter 5.7 cm
The tube is 46 cm long. The hand pump is 16 cm long with a comfortable grip.
Material: ABS, silicone, PC, acrylic, phthalate-free
Review
There are currently no product reviews. Be the first.
Related products
Metal dilatator 12 mm
Slightly curved dilators with smoothly tipped tips. You can use the dilator as an erotic or medical…

In stock
20.73 €
Bad Kitty Red Giant
The large 8-piece Bad Kitty set is made of a pleasant material in a red / black design. The…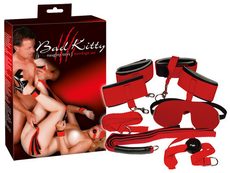 In stock
38.42 €
Bad Kitty black gag
Do you want to silence your partner? Get a small black Bad Kitty round gag. The gag is very easy…